WEDDING DJ'S
congraTULATIONS!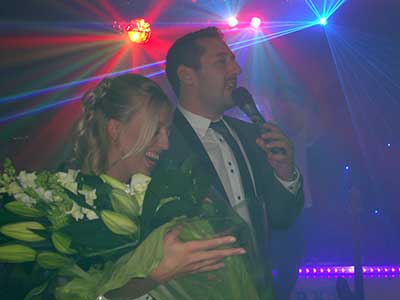 Here at Nostalgic Entertainments, we understand the importance of your occasion. Since we established in the year 2000, we now provide Wedding DJs to many prestige hotels and venues across Essex and the South East. Therefore, all our DJs are very experienced as we normally have at least 2-3 DJs out every weekend due to the Wedding Season.
Whether you are here due to meeting us at the many Wedding Shows we carry out, adverts in the Bridal Magazine or through simple recommendation, we feel that only the best will do. There is nothing worse than not speaking/meeting with your DJ or making a booking to be badly disappointed on the day. All our Wedding DJs will take the responsibility to ensure all your friends and family, especially yourselves will have the perfect day. Leave it to the professionals and enjoy and relax!
All our Brides and Grooms to be, will experience a clear and professional service with ourselves. Firstly, we will agree a competitive price based on the hours you wish to book. Then onto the important part were you get to explain exactly what you're looking for. This maybe an earlier start with background music as the guests walk in, background music during dinner, wireless microphones for the important speeches and so on. Once the structure of the day is confirmed we will send you you're booking forms. This is when you can detail your special requests and any other important information you wish for us to know. You will also receive a price pack for other services you may wish to include like a super live singer, a rockin' band, hire of photo booth and so on.
Once we receive your paperwork we will confirm this for your peace of mind. Obviously, any changes that require our attention we will be happy to detail this. We will then forward your details onto your Wedding DJ who will have the upmost experience and desire to help you feel that all is in hand with the entertainment. They will then contact you to re-check all the details are agreed on and thus you will be able to speak to the DJ direct. We feel this offers confidence between yourselves and the DJ who will look forward to congratulating you on the day and delivering a night to remember.
Don't forget, all our Wedding DJs have an exploding rig, meaning we invest heavily into our equipment! Together with a quality sound system, brilliant lighting including lasers, smoke machines (if allowed by venue) and flame lights, forms the ultimate show. Furthermore, our music collections would put some radio stations to shame with everything from the 50's to the present. Don't forget "Nostalgic Entertainments" means what is says on the tin. Throughout the evening there will be music to please everyone taking you down memory lane with tune after tune including music for the kids! Not forgetting slow dances and classic sing-alongs near the end.
We also cater for special sets which we find our customers are demanding more often now. Some customers have been asking for specific special sets of music for one hour near the end of the party such as club classics, house, RnB, garage, old skool, indie and so on. Please let us know if this is something you wish our Wedding DJ to include at no extra cost.